Heavy Music Artwork 7th issue 'NIHILISM' will publish some of my works and an interview with my thoughts about nihilism, art in postmodernity and something else.
Featuring
Ministry, Watain, Morbid Tribulation, Summoning, Septic Flesh, Orphaned Land, Behemoth, Sinsaenum, Maxime Taccardi, Ken Coleman, Héctor Pineda, Anna Levytska, Benjamin A. Vierling, Nestor Avalos, Álex Tedín and more.
Magazine Specs
Ethically sourced and FSC approved and using vegetable-based inks
Limited edition of 666 units hand numbered and stamp embossed
Perfect PUR binding on 250gsm (cover) Offset Paper
100 pages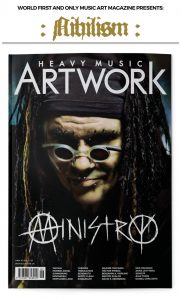 In a Post-Modern world we ask, is there something to believe in? What does culture mean? Is NIHILISM at the centre of our cultural chaos? Is the metal world complicit in its collapse? One can argue that metal and especially black metal nourishes an excessive sense of the narcissistic and self-aggrandising beyond any form of art and music. In this issue 'NIHILISM', we dig and poke to find answers.
---