My work featured in the book "ARTE ARCANA" this month. Arte Divina highlighted divinity and the holy act of creativity. Arte Arcana focus on the dark side of the arts from whatever philosophical source artists draw their inspiration. Speaking across cultures and traditions is difficult to say what can be considered "dark". We invite artists to share their visions, interpretations, critiques, thoughts and discussions.
ISBN 978-1-78926-357-2
'Arte Arcana' In approx numbers
79 artists
Extended articles
232 pages
256 high-quality art images
300 Limited Editions
Hardback gloss finish
Hand sewed binding
Litho plates pressing
Matt dust jacket
150 gms high gloss paper
260mm deep x 210mm wide
Hand numbered and embossed
Presell now open for a summer release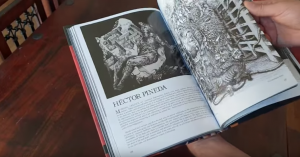 Participating artists:
Adolfo W.B. ☩ Abstract Chaos Design (The Art of Federico Bossinga) ☩ Adrian Bilozor ☩ Agardnas ☩ Andrej Bartulovic ☩ Angelo Roccagli ☩ Anna Levytska ☩ Arjen Kunnen ☩ Artem Grigoryev ☩ Bahrull Marta ☩ Björn Gooßes ☩ Brian D'Agosta ☩ Brian Sheehan ☩ Caelan Stokkermans ☩ Carlos Fides ☩ Carlos Andres Jacome ☩ Chadwick St. John ☩ Christophe Szpajdel ☩ Daniele Valeriani ☩ Elijah Gwhedhú Tamu ☩ Fabiano Gagliano ☩ Federico Bossinga ☩ Felipe Machado Franco ☩ Gianluca Gambino ☩ Giannis Nakos ☩ Gustavo Sazes ☩ Héctor Pineda ☩ Jason Marshall ☩ Jimbob Isaac ☩ JL Rey ☩ John Santerineross ☩ Juha Vuorma ☩ Justin Bartlett ☩ Justin Meyers ☩ Ken Coleman ☩ Lenore Ani ☩ Rusalkadesign ☩ Max 'Teratogen' Winter ☩ Mayhem Project Design ☩ Mike Hrubovcak ☩ Nick Deligaris ☩ Putrefurnaced Guerrilla Sketches ☩ Rhett Podersoo ☩ Roberto Lezama ☩ Roberto Toderico ☩ Sam Hayles ☩ Santiago Ramos ☩ Simon Bossert ☩ Metal Artworks ☩ Timon Kokott ☩ Vagelis Petikas ☩ Vladislav Cadaversky and more.
Buy the Arte Arcana book here.
Watch the preview:
---